________
Last Game
Tribe- 11 Yanks - 1
Next Game:
Indians @ Yanks
________
Galleries
________
---
Joe DiMaggio
1914 - 1999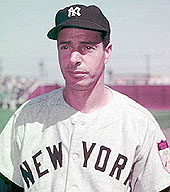 (The following are articles that I enjoyed reading. Each article lists the author as they were not written by me-obviously)
DiMaggio an American hero

By Bob Kimball, USATODAY.com

American icon Joe DiMaggio, who patrolled center field with grace and precision and won pennant after pennant with the New York Yankees, died Monday at his home in Hollywood, Fla.. The Yankee Clipper was 84 and had undergone surgery for lung cancer in October before developing pneumonia. DiMaggio's impact on the Yankees, sports and American culture was dramatic following his arrival in New York from San Francisco in 1936.

The Hall of Famer starred on four World Series winners in his first four major league seasons and wound up leading the Yankees to 10 American League titles and nine Series championships in 13 years. DiMaggio was, in short, one of the great winners in history who also surrendered three years in the middle of his playing career to military service. Fans might have hated the Yankees, but they always admired and even rooted for DiMaggio.

After baseball retirement in 1951, he made headlines by marrying - and divorcing - movie queen Marilyn Monroe, appearing on TV as Mr. Coffee and generally being Joe DiMaggio. It was during his brief marriage to Monroe in 1954 that he supposedly made one of the great rejoinders. Upon returning from entertaining troops in Korea, Monroe told her new husband, "Darling, you've never heard such cheering." Replied the often understated DiMaggio, "Yes I have."

DiMaggio stands with game's giants

By Tom Weir, USA TODAY

To some, he was Mr. Coffee. To others, he was the man who for decades regularly sent red roses to the grave of his second wife, Marilyn Monroe. There also were those who knew him only because of a musical question, "Where have you gone, Joe DiMaggio?"
But baseball fans knew him long before any of that. And, for them, today there is a sad truth provided by the second part of the Simon and Garfunkel lyric:
"Joltin' Joe has left and gone away."
DiMaggio, 84, died shortly after midnight Monday at his home in Hollywood, Fla., surrounded by friends and family members. The exact cause of death was not known, but he had suffered from lung cancer and other ailments. Funeral arrangements have not been disclosed. He is survived by his brother Dominick, son Joe Jr., grandchildren Paula and Cathy, and four great-grandchildren.
The son of an immigrant crab fisherman, DiMaggio was one of nine children in a family that also sent brothers Dom and Vince to the major leagues. He was born Giuseppe Paolo DiMaggio in 1914 in the San Francisco-area town of Martinez, but came to be known as the Yankee Clipper while in effect manning the helm of baseball's best team for 13 seasons.

In the chain of New York Yankees dynasties that ruled baseball from the '20s to the '60s, DiMaggio was the solid-gold link between the eras of Lou Gehrig and Mickey Mantle. The first of DiMaggio's three MVP seasons, 1939, was the year Gehrig took the field only eight times and ended his streak of 2,130 games played. DiMaggio's last season, 1951, was Mantle's rookie year.

DiMaggio's seemingly effortless grace in center field and at the plate has inspired countless odes. Les Brown and his Band of Renown dedicated a song to DiMaggio in the '40s, and even Nobel Prize-winning author Ernest Hemingway devoted several passages of dialogue to DiMaggio in The Old Man and the Sea.

When at last the old man has landed his catch, he muses, "I wonder how the great DiMaggio would have liked the way I hit him in the brain?"

But perhaps Yankees manager Casey Stengel best captured the ease of DiMaggio's greatness:

"Joe did everything so naturally that half the time he gave the impression he wasn't trying," Stengel once said. "He made the rest of them look like plumbers."

The streak

In 10 of DiMaggio's 13 seasons, the Yankees reached the World Series, and in nine they were crowned Series champs. DiMaggio still ranks as the only player to win a World Series ring in his first four seasons (1936-39), but his baseball immortality will be marked by a record that most of the game's experts agree will accompany him to the grave.

After slumping early in the 1941 season, DiMaggio eked out a scratch single during a 1-for-4 performance May 15. He didn't go hitless again until July 17, a stupefying string of 56 games.

Six games of the streak pitted DiMaggio against starting pitchers who, like himself, were headed for the Hall of Fame: Bob Feller (twice), Hal Newhouser (twice), Lefty Grove and Ted Lyons.

Ending the streak required a pair of fielding gems by Cleveland third baseman Ken Keltner, but even then DiMaggio wasn't really done. The next game, he began a 17-game hitting streak.

DiMaggio had prepped for that historic run as a teen-ager. He had left high school after just one year to work in a fish cannery, then signed to play with the San Francisco Seals of the Pacific Coast League. At 18, DiMaggio had a 61-game hitting streak for the Seals, which still ranks as the longest in all of professional baseball.

That 1933 streak made him one of the most publicized prospects in baseball history, but a knee injury the next year cooled the interest of all teams except the Yankees. They bought his contract for $25,000 and accepted the Seals' condition that DiMaggio would play one more minor league season in San Francisco before donning pinstripes. In that season, DiMaggio batted .398.

Cheers and jeers

DiMaggio's Yankee Stadium debut May 3 attracted an estimated 25,000 Italian-Americans who showed up to wave their homeland's flag. In recent years, he naturally had received huge ovations while throwing out ceremonial first pitches at postseason games. And the cheers he received during pre-fight introductions of celebrities at major boxing events were always second only to those for Muhammad Ali.

But, contrary to modern impressions, the applause wasn't always so unanimous for the man who earned baseball's first $100,000 salary.

After driving in 167 runs in 1937, DiMaggio demanded a $45,000 contract in 1938. He had to settle for a reported $25,000, but by the time his holdout ended he had been vilified by the press and inundated with hate mail. The next year, an infamous article appeared in Life that was littered with anti-Italian slurs against DiMaggio.

In 1942, another contract dispute led to a questioning of DiMaggio's patriotism. The Yankees, anticipating financial downturns because of World War II, asked DiMaggio to take a pay cut. When DiMaggio refused, Yankees management turned the holdout into a red-white-and-blue issue.

That season, DiMaggio was roundly booed in American League stadiums. The next year, he enlisted in the Army and, at the age of 28, lost three potentially prime seasons to military service.

Along with a career-long succession of injuries, those wartime years ended any shot for DiMaggio to rank among the top 10 or top 20 in any of the major statistical categories.

He also was deprived of an excellent chance to join the ranks of .400 hitters. Batting .412 in early September 1939, DiMaggio developed an eye problem and finished at .381, still good enough to win one of his two batting titles.

But DiMaggio does deserve to be remembered for the virtually unmatched efficiency of producing 361 career home runs while striking out only 369 times. While hitting 714 homers, Babe Ruth fanned 1,330 times. For Mantle, the ratio was 536-1,710. For Reggie Jackson, 563-2,597.

Comfort of silence

The one time DiMaggio did strike out quickly was in his 1954 marriage to Marilyn Monroe, which lasted only nine months.

Most famous quote from the marriage came when Monroe returned from entertaining 100,000 U.S. troops in South Korea. She told her husband, "It was so wonderful, Joe, you never heard such cheering."

"Yes, I have," was the reply of the man who played in 51 World Series games.

In their divorce proceedings, the sex symbol of the '50s said that the sports icon of the '40s often wouldn't talk to her, a complaint that's easy to believe considering the way DiMaggio adamantly guarded his privacy after retiring from baseball.

He maintained a high public profile as a corporate spokesman, including TV ads for Mr. Coffee brewing machines. DiMaggio also served as a hitting instructor for the Oakland A's and Yankees but never gave in-depth interviews, even though major book publishers had lucrative, standing offers for a tell-all book.

But that wasn't DiMaggio's style, whose manner is perhaps best captured by the way he retired in December 1951, after what was only his second sub-.300 season. The Yankees were reported to have offered him $100,000 for another season, even if he had to severely limit his playing time.

Asked how he could turn down such an offer, DiMaggio said simply, "I no longer have it."

The story then was the same as it is now.

Joltin' Joe has left and gone away.

Quotes on the death of Joe DiMaggio

By The Associated Press

Comments from the fans and others on the death of Joe DiMaggio:

''He was a classy individual. ... When he finished playing, he had a very special aura. He had a lot of dignity about him besides being an excellent ballplayer.'' - Howard Fine, a plastics manufacturer from Mamaroneck, N.Y.

''He was what baseball was all about before we got to that high-priced stuff.'' - George Ladino, a Boston native now living in London who was traveling through New York's Grand Central Terminal.

''It's the passing of a person from a time when baseball was the way it should be, when there was a higher ethical and moral standard.'' - Doug Connor, a financial industry worker from Irvington, N.Y.

''Joe DiMaggio was one man who truly epitomized the 'Hemingway Hero.' He confronted adversity with grace under pressure.'' - Joe Dorinson, author of ''Jackie Robinson: Races, Sports and the American Dream,'' which had a section comparing Robinson and DiMaggio.

''For several generations of baseball fans, Joe was the personification of grace, class and dignity on the baseball diamond. His persona extended beyond the playing field and touched all our hearts. In many respects, as an immigrant's son, he represented the hopes and ideals of our great country.'' - Baseball commissioner Bud Selig.

''Like his many fans across America, and indeed, around the world, the Yankees are deeply saddened by the passing of Joe DiMaggio, one of our own and one of the greatest of all time. It was the class and dignity with which he led his life that made him part of all of us.'' - Yankees owner George M. Steinbrenner.

''He was the kind of guy that exemplified what a major leaguer should be like, and act like, and play like. ... He played the game with so much intensity. He played the game with pride. He wore the Yankee uniform with dignity and character.'' - former LA Dodgers manager Tommy Lasorda, interviewed on CNN.

''Where have you gone Joe DiMaggio? A nation turns its lonely eyes to you.'' - Paul Simon's lament to lost heroes in ''Mrs. Robinson.''

Facts and figures of Joe DiMaggio

Nov. 25, 1914: Giuseppe Paolo (Joseph Paul) DiMaggio born to Giuseppe and Rosalie DiMaggio in Martinez, Calif.

July 5, 1931: At 17, DiMaggio makes his debut with Rossi Olive Oil, a team in the Boys Club-sponsored McNamara B Winter League, which is an amateur recreation league.

1932: Throughout the summer, he fills in with Sunset Produce, a Division A semipro club, and the Avalons. Here he gains experience against older and better players. Late in the season, he joins Baumgartens AA Club in the Recreation League. DiMaggio plays with older brother Vincent for the last three games of the Pacific Coast League (PCL) season with the San Francisco Seals.

1933: DiMaggio's career as an outfielder begins when he plays right field in the opening Seals-Portland game.

May 28, 1933: DiMaggio starts a 61-game hitting streak in the second game of a doubleheader against first-place Portland. He breaks the league record of 49 set by Oakland's Jack Ness in 1915.

1934: In May, DiMaggio injures his knee after a family celebration of his streak. In a game Aug. 10, he reinjures himself and has to sit out the rest of the season.

Nov. 23, 1934: The New York Yankees offer Seals owner Charlie Graham $25,000 and five players for DiMaggio. The deal is mutually beneficial: DiMaggio plays with the Seals for the 1935 season, Graham gets his five players and the Yankees take DiMaggio for '36 -- if his knee holds up.

1935: DiMaggio is voted PCL Most Valuable Player. Abe Kemp of the San Francisco Examiner writes, "Just a word about Joe DiMaggio, who has finally convinced me that he is the greatest ballplayer I have ever seen graduate from the Pacific Coast League."

1936: DiMaggio begins his 13-year run with the Yankees. His brother Tom negotiates an $8,500 contract, the highest salary New York ever offered a rookie. At the home opener, DiMaggio plays left field and bats third in the lineup, Babe Ruth's old spot. Later in the season, DiMaggio moves to Ruth's right-field position. By August, he moves again to center field.

1937: DiMaggio re-signs for double his rookie salary -- $17,000 a year. But the Yankees recoup some of the money: They add seats in the right-field stands to accommodate fans now attending games to see him.

July 5, 1937: The Yankees are tied 4-4 with Boston; the bases are loaded. DiMaggio hits it long to left field. The ball lands in the bullpen. This is his first grand slam in the major leagues. DiMaggio is voted player of the year by the Yankees and Baseball Magazine. He collected the most votes for The Sporting News all-star team. This is the year DiMaggio earned the nickname "Yankee Clipper." (Radio broadcaster Arch McDonald gives DiMaggio the moniker because of the way he "appeared to glide across the outfield in pursuit of fly balls.")

1939: DiMaggio earns his first batting title with a career-high .381. He makes what is believed to be the best catch of his career -- a Hank Greenberg drive to the monuments in left-center, behind the flagpole and in front of the 461-foot sign. DiMaggio ran about 200 feet to get to the ball.

Nov. 19, 1939: DiMaggio, 24, marries actress Dorothy Arnold, 21, at St. Peter and Paul Cathedral in San Francisco.

1940: DiMaggio earns his second batting title with a .352 average. He also has 31 home runs and 133 RBI in 132 games.

May 15, 1941: The Yankees play the Chicago White Sox at home and DiMaggio singles in one of his four at-bats. He hits in the next 55 games. It is still a record. He hits .357 for the season and is named MVP.

Oct. 23, 1941: DiMaggio's only child, Joseph Paul DiMaggio Jr., is born.

1942: DiMaggio has 186 hits and bats .305 in 154 games. On Dec. 3 he enlists in the Army Air Forces.

1943: DiMaggio, a staff sergeant, is a center fielder for the 7th Air Force team. (In 1944, it would play a Navy team that includes Johnny Mize at first and Pee Wee Reese at shortstop.)

Oct. 11, 1943: Dorothy DiMaggio files for divorce.

Sept. 14, 1945: DiMaggio is discharged.

1947: DiMaggio begins the year with surgery to remove a 3-inch bone spur from his left heel. He ends it as MVP, batting .343 and making one error in 141 games.

1948: DiMaggio leads the league with 39 home runs and 155 RBI despite recurring pain from a bone spur. He hits his 300th career home run this season.

1949: On Feb. 7, DiMaggio becomes the first $100,000 ballplayer. He earns his money this season. Playing hurt (now his right heel) and exhausted (from a viral infection), DiMaggio pulls himself out of the pennant-deciding game with the Boston Red Sox. The Yankees win 5-3 and go on to their 12th World Series title. He hits .346 for the season. His father, Guiseppe, dies in May.

1950: DiMaggio plays in his ninth World Series in 12 years. His mother Rosalie, 72, dies.

1951: The Yankees play in -- and win -- another World Series. It would be DiMaggio's last. On Dec. 11, he announces his retirement: "When baseball is no longer fun, it's no longer a game. And so, I've played my last game." The legacy of his 13-year career: 2,214 hits, .325 batting average, 361 home runs and 1,537 RBI. He is arguably the most elegant man to wear Yankees pinstripes.

1952: DiMaggio's number (5) is retired.

Jan. 14, 1954: DiMaggio weds actress Marilyn Monroe. The marriage lasts less than a year (to Oct. 27) but the affection endures. After Monroe's death Aug. 5, 1962, DiMaggio arranges the funeral. He never remarries and leaves roses at her grave weekly for 20 years.

1955: DiMaggio is inducted into the Baseball Hall of Fame. He played on 10 pennant winners and nine World Series champions in his career. He was an All-Star in all 13 years.

1967: DiMaggio begins a two-year stint as coach and consultant with the Oakland Athletics.

1969: In a nationwide poll, DiMaggio is voted baseball's greatest living player.

1972: DiMaggio becomes a spokesman for Mr. Coffee. He also made commercials for the coffeemaker company in '74 and '84.

March 8, 1999: DiMaggio dies after a lengthy illness.

Quote: ''I want to thank the good Lord for making me a Yankee.'' - from remarks on Joe DiMaggio Day at Yankee Stadium, Oct. 1, 1949.


Sources: USA TODAY research; wire reports; Dick Johnson and Glenn Stout, DiMaggio: An Illustrated Life; Baseball Weekly

Compiled by Joan Murphy and Tammi Wark, USA TODAY

An appointment Joe D couldn't make

By The Associated Press

Joe DiMaggio fell a month and a day short of another appearance at Yankee Stadium.

DiMaggio, who died Monday, had tacked to his bed a sign that said ''April 9,'' opening day at Yankee Stadium, where he was supposed to throw out the first ball.

''Five days ago, on March 2, I visited with Joe at his home in Hollywood, Fla. He was weak but spirited and alert,'' said George Steinbrenner, the New York Yankees' owner. ''I told him, 'Joe, you have a date with the Yankees on opening day. We are counting on you to throw out the first ball.'

''He just smiled.''

DiMaggio made a lot of people smile, as was apparent by the tributes that began pouring in minutes after his death was announced.

He also transcended baseball, much like Michael Jordan in basketball a half-century later, and was a spokesman long after he retired for a variety of products, including Mr. Coffee. In New York's Grand Central Station, a bank he endorsed simply posted the pinstriped number ''5.''

And he reached fans and non-fans as an American hero.

''Even though I was never one of those people who cared about baseball, I care a lot about Joe DiMaggio,'' said former New York Mayor Ed Koch, who grew up in the city during DiMaggio's heyday.

''He represented the best in America. It was his character, his generosity, his sensitivity. He was someone who set a standard every father would want his children to follow.''

People in the sport agreed.

''His persona extended beyond the playing field and touched all our hearts,'' baseball commissioner Bud Selig said. ''In many respects, as an immigrant's son, he represented the hopes and ideals of our great country.

''I idolized him from afar as a child growing up in Milwaukee. In later years, when I had the opportunity to become acquainted with him, my admiration grew. Being with him was an event, bringing on an air of excitement, anticipation and joy.''

Tommy Lasorda, former Los Angeles Dodgers manager, suggested that DiMaggio's record 56-game hitting streak may stand for another 100 years, unlike Babe Ruth and Roger Maris' home run records and Lou Gehrig's consecutive-game streak.

''He was always kind of shy,'' Lasorda said of DiMaggio. ''He felt uncomfortable with a lot of people, but yet he was always there as a tremendous representative of our game of baseball. He was an icon.''

In Albany, a bill is before the New York legislature to rename the city's West Side Highway for DiMaggio.

''I'm comforted, as are all New Yorkers, that we informed him before he died that the West Side Highway will be renamed the Joe DiMaggio Highway,'' said Mayor Rudolph Giuliani, a longtime Yankees fan.

''As long as baseball is played, Joe DiMaggio will exemplify the very best.''

In Cooperstown, N.Y., the Hall of Fame flag was at half-staff and a wreath was placed on DiMaggio's plaque.

The Hall has also scheduled special DiMaggio video programming for March, put a tribute on its Web site and is planning an exhibit.

It will include the glove that outfielder Al Gionfriddo of the Brooklyn Dodgers used when he robbed DiMaggio of an extra base hit with a spectacular running catch in the 1947 World Series, and DiMaggio's contract for 1948, the first in sports to reach $100,000. Even the pen is there.
The man they looked up to
Even to present Yankees, DiMaggio was unapproachable

Associated Press

TAMPA, Fla. — David Cone never asked Joe DiMaggio for his autograph. He was too afraid, so he went out and bought a dozen from a collector.

"I don't remember what the exact price was, but it was a lot," the New York Yankees pitcher said Monday, recalling the purchase about a year ago.

"He really lived up to his billing. He was the greatest living player. He just had such a dignity and an elegance about him that nobody can match in today's game. Even the greatest players in today's game can't match that elegance that he had. He's one of a kind."

DiMaggio, who died Monday at his South Florida home, played for 10 pennant winners and nine World Series champions with the Yankees.

Fans visiting the spring training complex placed flowers in front of a monument for him outside Legends Field, and the No. 5 was stitched onto the left sleeve of each player's jersey.

The Yankees ran a 90-second videotape of DiMaggio highlights before observing a moment of silence before the start of Monday night's game against the Philadelphia Phillies.

"Joe DiMaggio is baseball. He's a national hero," said Sandra De Santis, a Highland Park, N.J. mother, whose 11-year-old son Gregory placed a bouquet is front of the plaque that reads:

"From 1936-51, Joe led the Yankees through their most dominating era. His excellence on the field propelled the Bombers to 10 World Series and his graceful stroke was one of baseball's greatest pleasures."

By early afternoon, the Yankees posted a security guard to keep TV cameramen and early arriving fans off the grass in front of the monument, which is part of a tribute to all-time club greats.

Later, the club placed a huge spray of flowers and a painting of DiMaggio at the site.

"Very few people touched so many generations and so many lives. He had a tremendous impact on so many people. He was part of the fabric of America," general manager Brian Cashman said.

DiMaggio's 56-game hitting streak in 1941 is considered one of the greatest records in sports, and current Yankees marveled about the mystique that set him apart from other Hall of Famers.

"I met him a few times," Cone said. "He told me that he'd seen me pitch and sometimes I looked unhittable and sometimes I looked hittable. I didn't know how to take that. But just the fact he knew who I was was enough for me."

Catcher Joe Girardi talked about what a thrill it was to have his picture taken with DiMaggio when he threw out the first pitch during a playoff game in 1996. Darryl Strawberry predicted no one will ever hit safely in 56 straight game again, while Derek Jeter described DiMaggio as "everything a ballplayer would want to be."

Jeter, noting DiMaggio was an intensely private person, said most players were reluctant to approach him during his occasional trips to Yankee Stadium.

That, however, didn't mean they didn't soak up as much of the Yankee Clipper as they could.

"He had more presence than anybody I ever met. When he was around, you knew it. Everybody lit up. The whole clubhouse would be abuzz when Joe D. walked in," Cone said.

Longtime baseball executive Arthur Richman, now a senior adviser to the Yankees, recalled DiMaggio as a friend and one of the fiercest competitors in the game.

"I started watching him in 1936. I always said the greatest player I ever saw was Babe Ruth. But he was in a class by himself. He was the greatest home run hitter that ever lived and he was a great pitcher. How many guys would pitch and hit home runs?" Richman said.

"When it came down to the greatest player, I think about (Stan) Musial, and (Willie) Mays and (Ted) Williams," he said. "But DiMaggio was the one man, if my life depended on it, I'd want at the plate to get that base hit in the ninth inning. And he did so many times."
We will never know his kind again
The Clipper's mystery built the myth

By Art Spander
FOX Sports Online

NEW YORK — He was a reminder of innocence lost and championships won, of a time when the country had heroes, not superstars; of an era when modesty was in vogue and privacy was in style.

He was a celebrity in a pre-celebrity culture.

We didn't know everything about Joe DiMaggio, and that was part of the attraction. We knew about his records. And his background. And his work ethic.

We knew that he was elegant and diffident, and that he never made an easy catch look difficult.

But we didn't know what transpired behind closed doors, or sometimes even in front of open ones, and that was all for the best because it is mystery, as well as mastery, that helped construct the myth.

In the final line of his final column, the great Red Smith wrote, "I told myself not to worry; that someday there would be another DiMaggio."

The suggestion was more a remembrance of things past than a forecast of things possible.

There will never be another DiMaggio. Red Smith knew it. We all knew it.

Society has changed, and not necessarily for the better.

Legends do not flourish under the scrutiny of the television camera. The bright lights display multi-millionaire athletes in Armani being led to and from courthouses by high-priced lawyers. We're assaulted with stories of player selfishness and owner greed, bombarded by tell-all books in which players trash their teammates and demand all the credit for themselves. Even the greatest current icon, Michael Jordan, has not been given immunity from the harsh glare of the public spotlight.

But to the end, DiMaggio the Legend remained properly enigmatic, tantalizingly private. There would be no declarative autobiography, no appearances on talk shows. There would be only silence and the memory of how he played the game.

Baseball owned America in the 1940s and early 1950s, and Joe DiMaggio owned baseball. Rogers and Hammerstein evoked his name in the lyrics in "South Pacific." Every boy grew up idolizing "Joltin' Joe." And for good reason.

He came out of the Great Depression and into World War II, symbol of a nation advancing from one struggle to another, prototype of a time that was glorious in memory if not exactly in fact.

There was nothing contrived, whether in his play or his nickname, "The Yankee Clipper." What could be more appropriate, more descriptive? He sailed along through waters troubled and untroubled.

He rarely showed emotion. "It wouldn't look right," explained DiMaggio.

DiMaggio never told anybody how good he was. His skills spoke volumes. He never got into a brawl. He had the aspect of a Greek god. Ted Williams, another great player of the time, said DiMaggio even looked good striking out, not that Joe struck out very often. DiMaggio was sunlit afternoons on green fields in a time that now seems tinged with gold. We had never heard of expansion, of free agency, of franchise moves, of night World Series games. We had never heard of downsizing and disloyalty and terrorist bombings.

"Where have you gone Joe DiMaggio?" asked Paul Simon's lyrics. It was a metaphorical search for our past, a generational lament. "A nation turns its lonely eyes to you . . . " Now he is gone, along with our youth.

A fisherman's son who lived the American Dream. He rose above his beginnings. He cared about his image. In his last season, 1951, he was asked why he didn't coast a bit, take it easy. "Because," answered DiMaggio, "there may be some kid who never saw me play before."

Isn't that what it's all about? To go every day and give one's best, to fight the good fight? That's what DiMaggio did.

He was self-effacing, the embodiment of what a great athlete is supposed to be, a role model if you will. "I never want to hurt anyone's feelings," he said once. "And I don't want to be embarrassed."

He rarely was. At least as far as we understood, and that is what counted. He was someone in who to believe, the embodiment of dignity. Even when persuaded some 50 years ago to do a book on himself, DiMaggio found it difficult to be egotistical. He titled it, "Lucky to be a Yankee."

Truth to tell, it was the Yankees who were lucky to have DiMaggio. Along with the rest of us.

We will never know his kind again.