________
Last Game
Tribe- 11 Yanks - 1
Next Game:
Indians @ Yanks
________
Galleries
________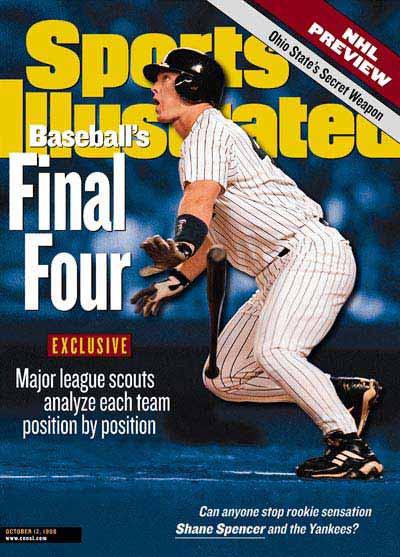 Yankees vs. Indians

Sports Illustrated baseball writer Mark Bechtel breaks down the
American League Championship Series

Posted: Tue October 6, 1998

Season series: Yankees, 6-4

Skinny: Cleveland knocked the Yanks out in the first round last year, so all
the talk in New York is of revenge. On paper, this looks like a Bronx
Bombing waiting to happen. But regular-season numbers can be deceiving.
Last year the Indians showed they have the ability to sleepwalk through the
season and wake up in October. Expect their bats to be alive, and if their
pitching holds up, there's a very good chance they will make this series
interesting.

Offense: The Yankees did not hit well against Texas's so-so pitching in the
Division Series. They scored just nine runs, and it seemed as if Shane
Spencer knocked them all in. The Indians, on the other hand, clubbed the
Red Sox. They didn't mess around with the little stuff: Of Cleveland's 25 hits
against Boston, seven were singles, 11 were doubles and seven were
homers. Normally, relying on the longball is dangerous. But against New
York's pitching, the Indians can't reasonably expect to string together a lot
of rallies. So the fact that they are getting timely extra-base hits is a good
sign. Edge: Indians

Starting pitching: In three games, the Yankees gave up one run against
Texas, one of the AL's top-hitting teams. The Indians got clutch
performances against Boston from a couple of question marks—Charles
Nagy and Bartolo Colon. They'll need more of the same, and a huge
outing from Jaret Wright, whom the Red Sox bombed in Game 1, to have
a chance. New York will have the better starter in every game. Edge:
Yankees

Bullpen: When it's on, Cleveland's pen is great. Paul Shuey has excellent
stuff and Paul Assenmacher is murder on lefties. But all of the setup guys,
even the two Pauls, have been inconsistent. Stopper Mike Jackson (40
saves) is solid. New York's relief crew held the Rangers scoreless. The big
question: What will happen when Mariano Rivera (36 saves) takes the hill
trying to hold a one-run lead? Will his failure to hold the lead in the decisive
game against the Tribe last year creep into his head? The bullpens could
decide the series. Edge: Yankees

Defense: New York is solid around the horn. The Indians are a bit flashier,
with Omar Vizquel making amazing plays look routine at short. Watch
David Justice. After DHing most of the year, he played a great left field in
two games at Fenway, diving around and throwing the ball like a
25-year-old. Edge: Even

Bench: Losing Darryl Strawberry (he'll be replaced by Ricky Ledee)
could hurt New York. Cleveland's bench is balanced and strong. But
frankly, neither bench will be much of a factor in the series. Edge: Even

Strategy: Joe Torre is as solid as they come. He likes to let his guys play,
but he isn't afraid to make a move. Neither is Mike Hargrove. If either
man is going to be second-guessed in this series, chances are it will be over
bullpen usage.

Weaknesses: The Yankees don't appear to have one. The Indians' starting
pitching is sketchy. Outside of that, the Tribe is every bit as talented as New
York.

Key matchup: Indians starters Wright and Colon vs. the Yankees hitters.
New York's lineup is full of patient hitters. Wright and Colon are both
hard-throwing youngsters. If the Yanks are disciplined and make the kids
throw a lot of pitches, they'll be able to get to the Indians' pen early, which
means they'll have a crack at the likes of Doug Jones, Jim Poole and
Steve Reed—not the most imposing group. But if Wright and Colon can
stick around long enough to turn things directly over to Assenmacher and
Shuey in the eighth, the Tribe will be in good shape.

The Yankees will win if: They play like they have all year. But New York
can't hit like it did against Texas. The Yankees murder bad pitching. The
Indians, on the other hand, hit good pitching well, so the Yanks can't expect
to hold them to one run in the series.

Cleveland will win if: Wright returns to his 1997 postseason form and the
bullpen holds up. An Indians win would not surprise me.

Prediction: Yankees in six.