________
Last Game
Tribe- 11 Yanks - 1
Next Game:
Indians @ Yanks
________
Galleries
________
---
1999 Division Series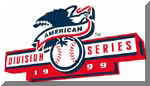 Yankees Vs. Texas
Game 1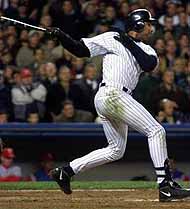 NEW YORK - Picking up right where they left off last October, the New York
Yankees blanked Texas yet again, with Orlando Hernandez allowing two hits in
eight innings and Bernie Williams driving in six runs as the defending World
Series champions beat the Rangers 8-0 Tuesday night in Game 1 of their
American League Division Series. Williams, showing why the Yankees paid
$87.5 million to keep him, had a two-run double off loser Aaron Sele in the fifth,
a three-run homer off Mike Venafro in the sixth and an RBI single off Jeff
Fassero in the eighth. Texas has just one run in its last 42 playoff innings, all of
them against New York, and has lost seven straight postseason games since
beating the Yankees in the Rangers' first one, in 1996. Last year, New York
came off its record 114-48 regular season and flattened Texas in a first-round
sweep, holding the Rangers one run and a .141 average. ''El Duque'' roped the
Rangers Tuesday and improved to 3-0 with a 0.41 ERA in postseason play (one
run in 20 innings). - USA Today
Game 2
BRONX, New York (Ticker) -- The New York Yankees got one more
big hit than the Texas Rangers, who cannot seem to manage any.
Andy Pettitte combined with two relievers on a seven-hitter as
the Yankees continued to baffle the Rangers, winning 3-1 to take
a 2-0 lead in their best-of-five American League Division
Series. Rookie Ricky Ledee snapped a tie with an RBI double in the
seventh inning, helping the defending World Series winners move
within one victory of the AL Championship Series.
Game Three is Saturday in Texas.
The AL West champs are 1-8 all-time in the postseason, losing
eight straight Division Series games -- a record skid in the
round -- to the Yankees in 1996, 1998 and this year.
"It's like the guy that threw out the first pitch last night
says, `It's like deja vu all over again,' same score, same
outcome," Rangers starter Rick Helling said, referring to
Yankees Hall of Famer Yogi Berra.
The Rangers, who led the league with a .293 batting average and
finished second with 230 homers, have scored only two runs and
are batting .144 (22-for-153) in the last 51 postseason innings
against New York.

Game 3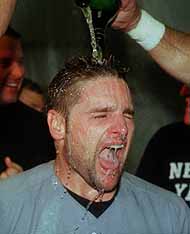 ARLINGTON, Texas - Of all the rebounds in Darryl Strawberry's career,
this one tops the list. Strawberry hit a three-run homer in the first inning
and Roger Clemens made it stand up Saturday night, sending the New
York Yankees into the AL championship series with a 3-0 victory over
the Texas Rangers that capped a first-round sweep. For Clemens, his
seven shutout innings of three-hit ball were certainly enough to placate
Yankees fans who had been waiting, ever since he was acquired this
spring from Toronto, for him to show the form that won five Cy Youngs.
He earned his second postseason win in 10 starts, his other victory coming
in 1986. New York will start the ALCS at home Wednesday night against
the winner of the Cleveland-Boston series. - USA Today