________
Last Game
Tribe- 11 Yanks - 1
Next Game:
Indians @ Yanks
________
Galleries
________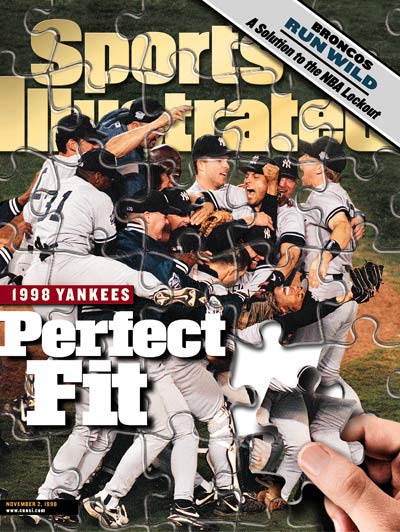 Crowd Pleasers

The Yankees secured their place among the most
celebrated teams in history, putting the final touches on
their masterpiece with a World Series sweep of the Padres

Posted: Wednesday October 28, 1998 06:33 PM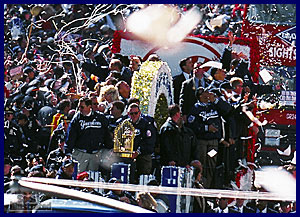 By Tom Verducci

Years from now, when the San Diego Padres have been long forgotten, the
New York Yankees will be remembered as having played the 1998 World Series
against ghosts and legends, against teams so good that their nicknames had
nicknames, against men from the days of Teddy Roosevelt's presidency who were deader than
the baseballs they had hit.
This wasn't a World Series. It was a seance.

No wonder the television ratings for this Series wound up as the worst ever.
Too many people were trying to find the games on The History Channel,
what with the Yankees being compared to the 1906 Chicago Cubs, the
1927 Murderers' Row Yankees, the 1975 and '76 Big Red Machine from
Cincinnati, and other great teams of yore. Are the '98 Yankees the greatest
team ever? The question had been raised before the season was half over.
In late summer a reporter asked 67-year-old Yankees coach Don Zimmer
how his team compared with the aught-six Cubbies. "Hell, do I really look
that old?" Zimmer blurted.

New York's place in baseball history would finally be resolved at precisely
8:24 PST on Oct. 21, when nearly unhittable closer Mariano Rivera
dropped to his knees and threw both arms aloft after the last of 125
victories. With their four-game sweep of San Diego the '98 Yankees proved
to be the most dominant team in baseball since the game was integrated, and
they are surely among the four top teams of this century. Among the
Yankees' monumental accomplishments are these:

They won more than 70% of their games.
They scored more runs than any other team in the majors.
They allowed fewer runs than any other team in their league.
They won the World Series.

Only two other teams were equally thorough in their domination: the '27
Yankees of Ruth and Gehrig, and the '39 Yankees of DiMaggio and Dickey.
Both of those teams also won their championships in a sweep. (The 1902
Pirates predated the first modern World Series by one year, but they played
.741 baseball and led their league in hitting and pitching.)

Great teams that were slightly flawed include the '06 Cubs, who lost the
World Series to the worst-hitting team in the American League, the White
Sox; the '61 Yankees, who didn't lead the American League in runs scored
or allowed; and the '75 and '76 Reds, whose pitching staffs ranked only
third and fifth in the National League, respectively. The '98 Yankees, as San
Diego discovered in a Cliffs Notes edition of New York's season, lacked for
nothing. The Yankees won Game 1 with a seven-run seventh-inning
comeback, won Game 2 in a blowout, won Game 3 with an eighth-inning
comeback against the most reliable closer in baseball and won Game 4 by
scratching out runs in a 3-0 pitching duel.

"I don't think they have a weakness," says San Diego general manager Kevin
Towers. "They have experience and youth, they play good defense, they
have speed, they take the extra base, they have power, they have good at
bats, they have terrific pitching, they have a manager who's had success, and
they have money. I don't know what else there is."

Well, they do get along like a Cub Scout pack, too. Infielder Dale Sveum
liked this team so much that after he was released on Aug. 3, he chose to
hang on as a bullpen catcher rather than go home to his wife and two
kids—even though he had a guaranteed contract. In the first moments after
their Series-clinching win the players honored Darryl Strawberry, their
teammate recovering at home from colon-cancer surgery, by chanting,
"Straw-man! Straw-man!" This was a team only a heat-seeking headline
writer couldn't love, a Reader's Digest team in a tabloid town.

"It's a team that doesn't spike the ball," manager Joe Torre says. "They have
an inner conceit. They know they're good, but they don't have the need to
flaunt it."

The Yankees' role as ghostbusters actually began in spring training when
owner George Steinbrenner asked Torre, "Has anyone ever gone 162-0?"

"He was kidding," Torre says. "I think. I didn't realize how
close we would come." How close? At 125-50, the Yankees played 75
games over .500 during the year that marked the 75th anniversary of the
franchise's first world championship as well as the opening of Yankee
Stadium. Their winning percentage—.714—was as monumental as Babe
Ruth's career home run total. Of the 50 games New York did lose, all but
18 were decided by one, two or three runs. "I can't see anybody dominating
the league the way we did," shortstop Derek Jeter says. "I mean, 125-50?
That's ridiculous."

These Yankees may appear to be mere pickpockets to the Murderers' Row
team of '27. In this Year of the Dinger, no Yankee had as many as 30 home
runs. Nor was there a certain Hall of Famer on the roster, though Jeter and
20-game winner David Cone are putting up eye-catching resumes.

Make no mistake, the Yankees did have top-shelf talent. On most days they
started an All-Star at every position but catcher. "People say they don't have
superstars," says Paul Molitor, the Minnesota Twins DH, who attended
Game 4. "But they have a handful of guys who, if you put them on another
club, would be superstars."

The Yankees didn't play music in the clubhouse after games this
season—they were too familiar with victory to celebrate it—though
outfielder Bernie Williams could be found before most games bare-chested,
facing into his corner locker, caressing soft jazz out of the strings of his
Fender Stratocaster. A perfect Yankees moment, this being a team of
brilliant studio musicians without a marquee solo act.

Picking a telling Yankees statistic is as easy as pointing out stars on a clear
night—and the best numbers had nothing to do with individual achievement.
For instance, the Yankees tied a major league record by going 24 straight
series without losing one—and 11 days after that streak ended they began
one during which they held a lead in 48 consecutive games. As late as June
22 they had more postponements at home (six) than losses (five).

The best gauge may be what October wrought: New York buzzed through
the postseason 11-2, despite having the top five spots in its batting order hit
a combined .219. Even that didn't hurt the Yankees because their relentless
lineup turned opposing pitchers into Sisyphus, as it had all year long. In the
playoffs they drew nearly twice as many walks as their opponents (62-32),
and their bottom four hitters combined to bat .305—including rookie Ricky
Ledee, who wasn't on the Division Series roster but who joined Billy
Hatcher (Reds, 1990) and Babe Ruth (1928) as the only players to bat .600
or better while playing in every game of a World Series.

The bottom of the order also included third baseman Scott Brosius, who
won the World Series MVP award with eight hits in 17 at bats. The same
guy who hit .203 for the Oakland A's in 1997 became only the eighth player
to hit World Series home runs in back-to-back innings when he connected in
the seventh and eighth of Game 3. He joined Ruth (1928) as the only players
to hit them after the fifth inning. San Diego was five outs from a 3-2 win
when Brosius blasted a three-run home run off Trevor Hoffman. Until that
5-4 defeat, the Padres had been 58-0 this year when Hoffman pitched in
save situations.

"When I think of this team, you know what's going to come to mind?" Torre
says. "Scotty Brosius. I saw a picture of him in the paper after that home run
and he had his mouth open, roaring like the MGM lion. His personality was
a big part of this club."

Brosius's RBI production (98) and clutch hitting (a team-high .372 with
runners in scoring position) during the regular season from the seventh, eighth
or ninth spots in the batting order typified not only the team's depth but also
its uncommon success in evaluating players. Despite Brosius's poor batting
average last year, the Yankees believed he was hurt by injuries and by
having to play several positions. "No other team wanted to trade for him,"
says Yankees scout Gene Michael. "We saw that his defense never went
into a slump. We liked the fact that he was athletic and a hard worker." New
York dumped disgruntled lefthander Kenny Rogers to get Brosius.


The Yankees also scored big with the signing of righthander Orlando (El
Duque) Hernandez, the Cuban refugee whom many clubs dismissed as an
average pitcher—at best—after watching him work out in February. The
team on the field for the last out of the World Series included four players
developed in the New York farm system, five acquired in shrewd trades and
none added through free agency. "The ability to evaluate talent is the bottom
line," says Mark Newman, the Yankees' vice president of player
development, who is Steinbrenner's foremost adviser.

The Yankees built an attack that could dispatch opponents with a cutlass or
a rapier. In Game 4, for instance, they played small ball, pounding choppers
and bouncers into the hard Qualcomm Stadium playing surface, much to the
annoyance of combustible Padres ace Kevin Brown. San Diego, which had
reached the Series by eliminating the Houston Astros and the Atlanta
Braves—teams that won 208 games combined—had not been swept in 67
straight series before running into the Yankees.

"New York's not a team that blows you away," Padres hitting coach Merv
Rettenmund says. "They just play baseball and beat you any way they
have to. It's like facing [Greg] Maddux. You look back on it and you
feel pretty comfortable, but you just don't do much against them."

New York's pitching staff was just as deep as Atlanta's. Lefthander Andy
Pettitte, the Opening Day starter and a 16-game winner, was held until
Game 4—and he closed out the series with 7 1/3 shutout innings. "They
have four starters who give you different looks," says Tony Gwynn, San
Diego's hitting savant. "[David] Wells is a power pitcher, El Duque is crafty
but can pitch like a power pitcher, Cone has all those arm angles, and
Pettitte can make the ball sink, run and cut. All of those guys use both sides
of the plate. With the Braves' starters, you know they're pretty much going
to stay on the outer half of the plate. With the Yankees, you can't look one
place or the other. I saw them on TV a couple of times this year, but to play
against them...well, it's a different story. They're as complete as any team
I've ever seen."

Pettitte was moved back in the rotation largely because of the emergence of
Hernandez, which also allowed the Yankees to use sinkerballer Ramiro
Mendoza to fortify the bullpen. Hernandez finished the season throwing his
fastball upward of 93 mph—a gain of 5 mph since he came up to the
Yankees in May, thanks to regular work after not having pitched for 18
months following his banishment from Cuban baseball. Likewise Rivera,
never taxed during the Yankees' runaway season, threw as well in the
postseason as he had all year. Batters got only four hits in 38 at bats against
him in 12 scoreless playoff innings.

Says Hoffman, "I don't think you can point your finger to any one thing to
explain that team. The one thing that keeps coming up is that they're a
team."

Now comes the hard part. This perfectly constructed team may need to be
reconstructed because it has six potential free agents—Williams, Brosius,
Cone, Strawberry, Joe Girardi and Tim Raines.

Williams is the lead domino. He wants a seven-year contract for more than
the $77 million he requested last winter. "That was last year," says his agent,
Scott Boras, about the price tag. Privately Williams seethes that the Yankees
offered him half that much last year while explaining to Boras that he wasn't
an elite player. Williams then batted cleanup, played centerfield, won a
batting title and a Gold Glove in his walk year—but slogged through such an
uninspired postseason that Boras said "several players" asked the agent what
was bothering him. Club sources say only that Williams was dealing with
"personal issues." Now the Yankees sound as if Williams is gone. "I'm going
to miss Bernie," Torre said after Game 4.

Williams said before Game 4 that he is interested in returning but refused to
identify the Yankees as his first choice. "I'm going to take two weeks, and
then I'll have a clearer idea," he said.

Brosius's fate is directly linked to what happens with Williams. "We're just
going to have to wait on Bernie," says Tony Attanasio, Brosius's agent. "If
Bernie comes out and says he wants $75 million and the Yankees give it to
him, well, they'll probably go with a third baseman who makes $200,000
instead of Scotty. For a guy who was devastated last year when I told him
he had been traded to New York, he's found a comfort zone in New York
and would absolutely love to come back."

The Yankees must decide whether to re-sign Brosius at about $5 million a
year or give the third base job to Mike Lowell, 24, a power-hitting prospect
who in his first full season in Triple A this year had 26 home runs, 99 RBIs
and a .304 average. "That's going to be Newman's call," says an American
League executive. "He's so good, he'll make the right one. If he thinks
Lowell is ready, Lowell will play."

The Yankees must also bump up the salary of Cone, who can elect free
agency, and reckon with the first year of arbitration leverage for Jeter, who
one baseball source says has already rejected a five-year, $25 million deal.
The emergence of rookie outfielders Ledee and Shane Spencer most likely
will push out Raines. "It becomes much more difficult to keep a team
together, the more you win," Newman says, "because that means players are
having a lot of success and they will be paid more."

Says Jeter of the serendipity of 125 wins, "Who knows? It may never
happen again."

Before Game 4 Molitor, one of the game's aficionados, was sitting near
some Fox executives who were bemoaning the possibility of a sweep and
lamenting the shortfall of drama, ad revenue and, no doubt, opportunities to
shamelessly plug the network's B-list actors. "I was saying, 'I totally
disagree,'" Molitor says. "Rather than having a tight World Series, it's perfect
to have it end with this great Yankee team sweeping. What better
exclamation point could you have to this season?"

The lasting beauty of the Yankees is the perfect tongue-and-groove fit of
their parts, as subtle as a wine's bouquet. This was a team whose greatness
will not be obvious in Cooperstown. It was a team you had to see to
believe.