The 1927 Yankees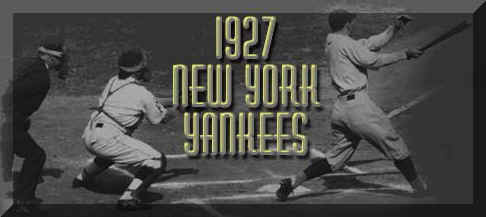 Murderers Row. The best team ever? There is so much that can be said and written about this team. The '27 Yanks won 110 games in a 154 game schedule and led the league in so many categories. They finished 19 games ahead of Philadelphia and won 59 more games than the last place Red Sox.
They are a team that was known for their hitting (Ruth hit 60 homers and Gehrig had 175 RBI's) but their pitching was also solid as Waite Hoyt won 22, Herb Pennock won 19 and Urban Shocker won 18 games. The Yanks also had a saviour out of the pen as Wilcy Moore led the league with 13 saves as well as winning 19 games. The Yanks swept the Pittsburgh Pirates to win their 2nd World Series Championship.
Game 1 Yanks - 5 Pittsburgh - 4 Hoyt gets hit but holds on to win.
Game 2 Yanks - 6 Pittsburgh - 2 George Pipgras picks up the win.
Game 3 Yanks - 8 Pittsburgh - 1 Pennock gives up 2 hits and one run over the first 8 innings.
Game 4 Yanks - 4 Pittsburgh - 3 Earle Combs scores the winning run on a wild pitch and Moore gets the Series winning victory.
---
Murderers' Row
1 - Earle Combs 2 - Mark Koenig 3 - Babe Ruth 4 - Lou Gehrig
5 - Bob Meusel 6 - Tony Lazzeri 7 - Joe Dugan 8 - Pat Collins
---
Positions
1B - Lou Gehrig 2B - Tony Lazzeri 3B - Joe Dugan SS - Mark Koenig C - Pat Collins/Benny Bengough
OF - Bob Meusel OF - Earle Combs OF - Babe Ruth
P - Waite Hoyt P - George Pipgras P - Herb Pennock P - Wilcy Moore